Want a bunch of balloons?
Want to add some extra balloons to your chosen Main balloon for a nice bunch? Just follow the steps below and enjoy your balloons!
Step 1
Add extra balloons optionally add multiple extra balloons to your chosen Main balloon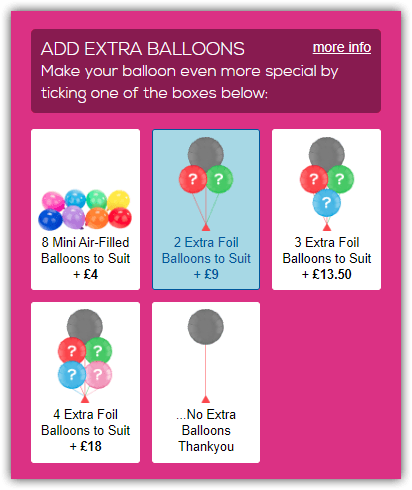 Step 2
Choose your balloons from our full range including any of the designs from our site (as long as they're 18in in size), Stars, Hearts and Circles in Gold, Silver, Blue, Light Blue, Green, Lime Green, Purple, Fuchsia, Pink, Lilac, Red, Yellow, Rose Gold, Black and White.
Step 3
Nearly done after you've decided on your balloons, just tell us in as much detail as possible how you would like them arranged in the text box you'll see when you close this popup. You're now ready to continue!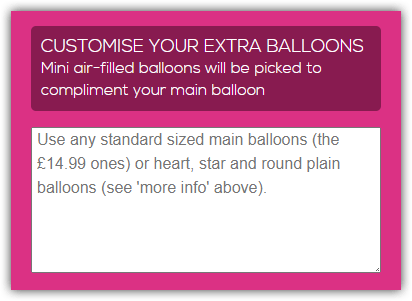 IMPORTANT INFORMATION
Please note all party balloon bouquets are available on a one working days notice and in the unlikely event of any unavailability of your chosen balloon, we undertake to contact you first to discuss the order or if time constraints dictate we will fulfill your order with the closest matching balloon/balloons available of at least the same value.