Customise your extra balloons
After selecting your extra balloons you'll see a textbox like the one below. Choose from plain stars, hearts and circles in gold, silver, blue, light blue, green, lime green, purple, fuchsia, soft pink, lilac, red, yellow, rose gold, black and white or any of our main balloons (the £14.99 ones).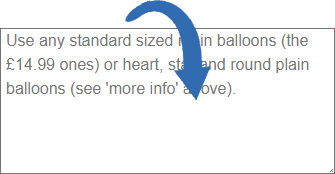 Please note: You're not able to customise mini air-filled or extra hearts balloons as these will be colour coordinated to suit.